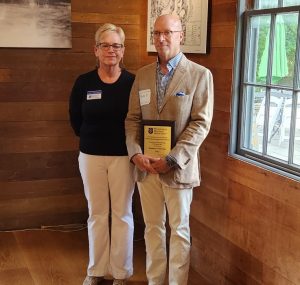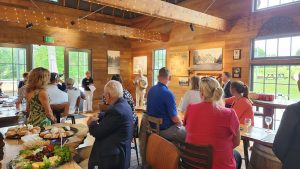 June 22, 2023 Annual Meeting Minutes
1. Call to order. (Linda Bohmbach – President)
A quorum was verified in attendance
Welcome to the Portsmouth Business Association Annual Meeting.
Minutes of previous meeting
Linda:
"The minutes of last year's meeting have been available on our web site. We also have copies here if anyone wants to review."
"Do I have a Motion to accept the minutes?"
"Do I have a Second?"
"Is there any Discussion?"
"All In favor"
"All Opposed"
"Motion carried   unanimoulsy
Report from the Treasurer.
Treasurer's Report by Kara Marley
Linda:
"Do I have a Motion to accept the treasurer's report?"
"Is there a Second?"
"Is there any Discussion?"
"All In favor"
"All Opposed"
"Motion carries (unanimous)"
Reading of any communication received.
"There are no communications outstanding."
Report of President
This has been a very successful year for the Portsmouth Business Association. We were able to fill the seats on our board with the addition of two new Directors – MaryBeth Clark and Cathy Wicks. So, I am excited to say we finally have a full board.
We have had some very successful Business After Hours.  Most recently, we met at Thrive.  This was a Business After Hours that we co-sponsored with Paul Harden of the RI Small Business Development Center and Isabel Marsh from the Greater Newport Chamber of Commerce.  There was a really good crowd there and it was great to see some new faces that were interested in joining the PBA.  We are always looking for our local businesses to offer to hold a BAH at their location.  It is a great way to show off what you do in your business.   Please reach out to one of us if you are interested.
Reports of committee chairs (if any)
"There are no committee reports."
Unfinished business.
"There is no unfinished business."
Election of officers
Rich Talipsky:
"The Nominating Committee Has Recommended the following Slate of Officers and Directors for 2024
Officers – This is a 1 – year term 2023-2024.
Linda Bohmbach – President
Michael Leverett – Vice President
Margaret McGreavy – Secretary
Kara Marley – Treasurer
Directors – 3 – year terms expiring in 2026.
Cathy Wicks
Linda Bohmbach
Richard Talipsky
Michael Leverett
Linda:
Are there any other nominations from the membership?"
"Do I have a motion to accept the nominations?"
"Do I have a second?"
"Is there any discussion?"
"All in Favor"
"All Opposed"
"Motion Carries (unanimous)"
New business.
Buy Local Campaign – the Portsmouth Town Council allocated $50,000 of American Rescue Plan Act funds to develop and implement a Town 'Buy Local' plan. We have been discussing how we can leverage this to make businesses in Portsmouth more successful.
We have also had discussions with an individual that specialize's in social media and how this can help promote our association as well as local businesses. We hope to have this individual on board with us soon.
We are in talks to have an October Fest / Farmers Market where tables will be sold so that businesses can promote their business and offerings. The tables will be very affordable, and we hope to be able to sell out this event.
Portsmouth Business of the Year Award
Annually the PBA honors a member business as its Business of the Year who has contributed significantly to the community.  This year we found a group of businesses that, together, have stood out in the Town and we were not able to single out one of them.
So, we honor Mike MacFarlane and Dennis Demarino, the owners of Tremblay's, the Blue Anchor Grille and Sunset Cove, for collaborating on three distinct business models that span Island Park bringing both diversity and synergy to Portsmouth.
Mike, please come up to accept the award and take this opportunity to make any remarks!
Thank you and thanks to Dennis who could not be here tonight!  It is very well deserved!
THANK YOU ALL FOR ATTENDING – PLEASE HELP YOURSELF TO FOOD FROM CLEMENTS AND DELICIOUS WINE FROM GREENVALE VINEYARDS – THANK YOU MICHAEL LEVERETT AND NANCY WILSON FOR NOT ONLY THE HOSPITALY BUT THE FOOD THAT HAS BEEN PROVIDED.
Adjournment – Linda
"If there is not anything else, do I have a motion to Adjourn?"
"Do I have a second?"
"Is there any discussion?"
"All in Favor"
"All Opposed"
Unanimous in favor.
"Meeting is adjourned"