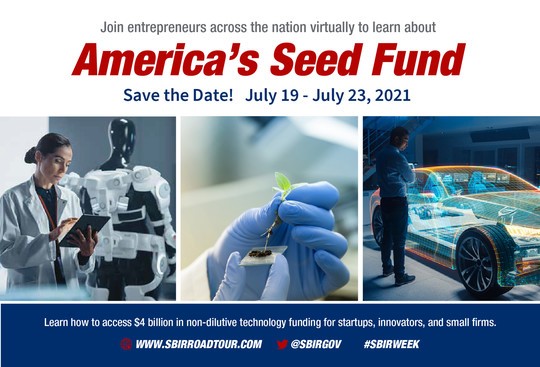 The 2021 National SBIR Week is a virtual event connecting entrepreneurs working on advanced technologies to the country's largest source of early stage funding – the Small Business Innovation Research (SBIR) and Small Business Technology Transfer (STTR) programs. Also known as America's Seed Fund, the SBIR/STTR programs provide over $4 billion in funding to small businesses each year in a wide variety of technology areas.
This event provides you with an opportunity to participate in live streaming panels and presentations with participating federal agencies that administer over 7,000 new awards annually and to meet virtually One-on-One with program decision makers. In collaboration with the Minority Business Development Agency (MBDA) and the Federal Laboratory Consortium for Technology Transfer (FLC), the MBDA InVision Tour will take place during National SBIR Week to foster inclusive innovation by empowering minority entrepreneurs to bring new technologies to the marketplace.
Between 2015 and 2019, the SBIR Road Tour visited every state and Puerto Rico – mostly traveling by bus between stops. For 2021, National SBIR Week brings Federal agencies to the whole country at once through virtual programming.
For more information contact:
Click the link below to learn more.